Product launches and campaigns
Get your latest product, solution or service the attention it deserves.
When it's time to put a new product on the market - whether it's a physical feat of engineering or a groundbreaking digital service - a lot of the success depends on a good launch.
With the following services, we can help with the planning, implementation and execution of your coming launch, either in a supporting role or leading the project.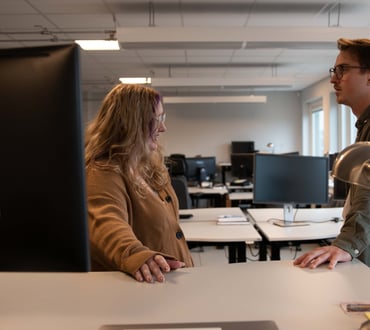 Activity planning
Based on your business and communication strategies, we identify and suggest relevant activation touchpoints and messages.
Campaign asset creation
Mapped to the activity plan, assets are created to support campaign communication and stimulate the click-through rate, CTR, from offsite.
Examples of campaign assets are social media messaging posts, visuals and text, optimised per touchpoint and persona, engaging SoMe stories, content offers, videos, images, GIFs and similar.
Campaign activation
Activation of campaigns spans from server deployment, hybrid launches, video uploads offsite, and external distribution to educating and sharing internally.
We can support pre-activation, measure and analyse the effectiveness and summarise learnings for future activities.
Meet Ingrid or get a quote
If you're interested in working with us on your next launch or campaign, you can give us some basic information about the project and your desired response time and get a quote here.
Alternatively, feel free to book a meeting with strategist and account director Ingrid Wallgren at a time that suits you and to discuss your plans further.