In this guide, you can learn why digital transformation matters, what successful initiatives look like, and how to avoid common pitfalls.
Insights
Digital transformation initiatives apply data science and technology to reinvent your business and company in ways that create new or added value for your customers and build long-term brand loyalty.
Why digital transformation
Digital transformation is how a company embeds technologies across their organisation to drive fundamental change. The drivers are usually:
Increased efficiency

Improved business agility, and

The unlocking of new value for customers, stakeholders and employees.
Several paths lead to digital transformation, and each company's journey is unique. One company might introduce AI to enhance its customer experience. Another company might redesign its supply chain management to better use machine learning. A third company is trying to make spot-on predictions about the products, services or solutions, so they can shift their production or availability to meet the demands.
Starting a digital transformation journey requires a mindset shift in all use cases. It is an excellent chance to reimagine how your company does things.
Two concepts are related to digital transformation: digitisation and digitalisation.
Digitisation
To translate analogue information and data into digital form—for example, scanning a photo or document and storing it on a computer.
Digitalisation
Use digital technologies to change your processes and projects, e.g., skilling your employees to use new software platforms designed to help. While digital transformation might include digitalisation efforts, it goes beyond the project level and affects the entire organisation.
Digital transformation requires shifting from traditional thinking toward a more collaborative, experimental approach and working method.
This way of approaching tasks and work reveals new solutions, which, in turn, can improve customer experience, drive employee innovation and spur company growth at the fundamental level. Recent events have delivered a resounding message to the business world; markets can change quickly. As a result, most of us try to find new ways of working and communicating. Simultaneously, we must move forward with new ideas to serve potential and existing customers. And we must activate big and bold plans as soon as possible. An incremental, long-term approach doesn't solve deep-rooted problems and forms the desired human connections in a suddenly all-digital world. We can't just improve our processes and operations a little; we must reimagine them.
Digital transformation initiatives shall apply the power of data and technology to shape your company around new possibilities. These initiatives touch all aspects of your organisation, strategic by design, from C-Suite to marketeers, service functions, sales reps, content experts, and authors.
The initiatives must be experimental and iterative, striving to reveal insights that lead to more precise decisions through every step and phase. Whether you undertake a digital transformation to survive disruption, build more engaged customers, or drive your online sales, a considerate and informed approach will deliver the best long-term results.
Companies launch ambitious digital projects and initiatives to realise game-changing results. In 2018, Zooma executed our first experiments to become genuinely digital so that everything we do becomes a best practice for our potential and existing customers.
Digital transformation has a new meaning in current times. We must be driven by the urge to see how the possibilities unfold.
What is digital transformation?
A digital transformation is an initiative that applies data and technology to solve your fundamental business problems, challenges and needs. The goal is to reinvent your company in ways that put your customers first, taking advantage of digital technology to create seamless and effortless interactions with them. By definition, digital transformations are far-reaching efforts to change or evolve how you think about people, processes, and your company culture.
A digital transformation roadmap looks a little different in every company, but some common threads usually include the following:
Digital transformation takes planning and buy-in from the executive team and the owners. Leaders who articulate a digital vision and show how they will measure ROI are more likely to succeed.

Personalisation drives new and improved experiences that must resonate with your customers and underpin successful digital transformation approaches and plans. The more relevant you become, the better you will get. Your company needs to decide on the best way to use and implement personalisation for its circumstances. To blindly follow or strive for a one-size-fits-all approach will fail.

Tailored and memorable experiences require consistent streams of high-quality content. Both marketing automation and artificial intelligence can help take the pressure off content creators. Still, this technology must be deployed strategically and not substitute for human intelligence, empathy, and creativity.
According to Zooma's article What is digitisation, digitalisation and digital transformation, the definition of digitalisation transformation is:
The process of building the capability to explore, experiment and exploit new opportunities made available by advancements in digital. Often spurred by the ambition to increase efficiencies and profit, for growth and competitive advantage.
Digital transformation vs business transformation
Any transformation involves foundational change for your company and organisation. However, when a company undertake a business transformation initiative, the scope may be broader, involving finance, culture, core values, and underlying processes.
By comparison, digital transformations focus on using new technology to make your company digital-first to better compete in the marketplace. In addition, digital transformations shall be led by your CEO in partnership with the executive team.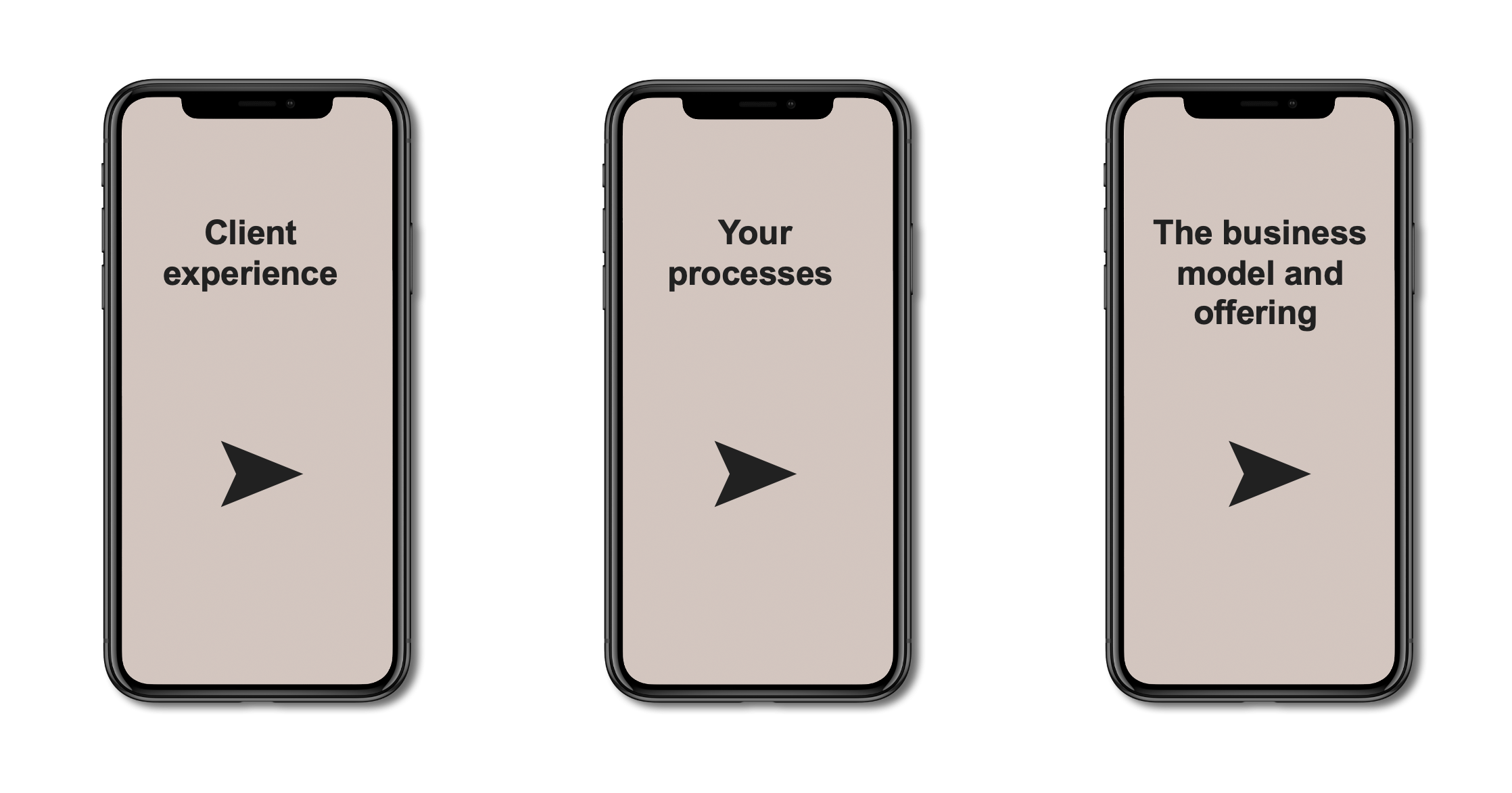 Digital transformation always includes:
Client experiences

Your processes

Your business model or offering
Ensure you know which one you focus on and if it affects or involves one or two others.
It's beneficial to learn from the mistakes of others whenever possible. At Zooma, we know what it's like to face and overcome most of these challenges.
Don't mistake assuming your digital-first vision will become a reality. Instead, think about how you should handle each of the following concerns proactively:
Lack of alignment
Your CMO plays a crucial role in successful digital transformation and is dependable on alignment across your entire C-Suite, from start to finish.
Small scope
Your digital transformation must be a foundational change. Incremental progress won't justify your investment.
Cookie-cutter personalisation
You will fail if you try to copy what other organisations do to personalise the customer experience. Instead, choose an approach that makes sense for your company and your digital transformation objectives.
Insufficient content capabilities
Immersive digital experiences take an insatiable amount of content, and this need can easily overwhelm a project team. So instead, use automation strategically to gain efficiency and prioritise which channels, experiences, and audiences need content first.
To drown in data
You can collect all the data you can find and still not understand your customer any better, so make sure you connect your data to actual customer needs and a structured plan.
How to approach digital transformation
Once you have the challenges and pain points you've identified and answered why you need to transform, it becomes easier to figure out what needs to be done and what steps to take to overcome the challenges you've outlined.
You must aim to develop objectives and metrics to guide yourself and your team through the process, including workflows, identifying key stakeholders, and assigning critical tasks.
You must come up with at least one objective or goal if you have multiple pain points.
When you have identified and decided on the objectives, come up with a time frame in which you should meet them to succeed in your transformation. To continue the previous example, your challenge is that reps don't have access to a summary of client history. Your objective can be that you want a streamlined process for inputting and cataloguing customer information over the year and a maximum one-minute wait time for accessing customer records and data during service interactions.
With this essential goal in mind, you know what you need to achieve to say that you've transformed your process. Then, it becomes easier to identify the tools that will assist you along the way.
Learn more about some guiding questions and additional requirements to help create a viable digital transformation approach and plan.
What is digital sales transformation?
Successful digital sales transformation is a change that fuels existing businesses and creates new growth paths. It goes beyond simplistic annual changes in responsibilities, compensation models, and the deployment of new technologies. Instead, it must address the pillars of digital change:
Understand digital customer buying behaviour

Re-allocate resources and roles

Change coverage, quota and compensation

Automate workflows

Create a data-driven transformation
Learn more about the pillars of digital sales transformation by reading this article.
Digital transformation technologies and services
Your digital experience platform and related services are critical to successful digital transformation. Your chosen digital experience platform is the foundation of your digital transformation needs. It must allow you to collect data at every customer touchpoint and apply it to create rewarding customer experiences. Increased engagement, stronger connections, increased revenue, and higher loyalty will result.
Your digital experience platform
To create unique digital experiences, you need technology that helps you understand your customer's behaviour and support you in delivering relevant content at the right time. A digital experience platform that provides CRM, CMS, content management, digital marketing, sales, service, operations and commerce in one platform. Personalisation, automation (Sales, Service and Marketing), and data capture should guide your digital transformation planning and processes.
Most modern platforms claim they are digital experience platforms, and Zooma has experience from many of them through our customers.

For Zooma's operations, we utilise HubSpot for all-digital experiences; we only apply use technologies and services that can be integrated through click-click. It would be best if you did so too.
Digital transformation research checklist
As you look for online solutions, there are a few essential considerations. Software is a significant investment, especially when working with several different products. Use below online research checklist to think through who will be using the software, what's available (+ read reviews), the pros and cons, and what you'll need to use the product.
You can also find more advice in the article Digital platforms: How to choose what's best for your company.